Low Amperage Welding Simulator eARC
Purpose
Low-amperage welding simulator is intended for acquiring of psychomotor skills in performing of welding process. eARC welding simulator is more efficient way to achieve the right psychomotor skills by the trainee i.e. arc ignition and maintaining of the stable arc, maintaining of required inclination angles of the torch and welding speed, training in carrying out welding in different spatial positions on different welding samples in all welding methods:
-MAW – manual arc welding (SMAW)
-MIG/MAG – gas-shielded metal arc welding (GMAW)
-TIG - tungsten inert gas welding (GTAW)
eARC welding simulator allows to estimate the student and analyze the welded seam. This is a way to demonstrate the dependence of welding seam forming to student, reduce the fear in the face of welding process and raise the interest to this process.
Delivery set
Interface unit
Interface unit is intended for the setting and control of basic welding parameters, such as:
-Arc length
-Welding speed
-Inclination angles of torch
-Type of sample
-Welding method
-Lesson's time of execution
-Welding position
Welding manipulator
Welding manipulator is intended for providing of different spatial positions of the workpiece, such as:
-Vertical (3F, 3G, 5G)
-Horizontal (2F, 2G, 2Gpipe)
-Flat (1F, 1G, 1Gpipe)
-Overhead (4F, 4G, 6G)
-Inclined
Welding torches
Simulator's torches are the real welding torches and it are intended to perfect skills in ignition and maintaining of the arc, moving the welding torch at the preset speed relative to a workpiece, as well as maintaining of other arc welding process parameters:
-MAW (SMAW) torch
-MAW (SMAW) torch with electrode melting imitation. The burning-off of the electrode in a direction from arc at a rate equal to that in real welding process
-TIG (GTAW) torch
-MIG/MAG (GMAW) torch
eARC software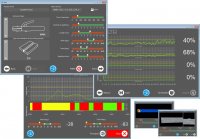 Special purpose software eARC allows to set up the different welding parameters, displays it, to fulfill the feedback with trainee, keep the training results and create the welding reports.
Welding workpieces
Welding workpieces are intended for imitation of different welding kinds, such as:
-Plate
-Corner joint
-Pipe
Advantages
Real low-amperage welding process: real arc, sound, sparks and fume
Money saving. Real materials such as electrodes or gas in welding, or gasoline in cars are expensive and gets consumed fast, with low-amperage technology all these costs disappear. The simulator consumes electricity no more than a personal computer
High productivity. In a low-amperage action can be tried and replayed infinite times forgetting about everything else but jumping immediately into the action.
The simulator removes the fear of a real welding process
The simulator creates the interest to the welding.
Welding simulator reduces the adaptation time of students to the real welding process.
Technical parameters
| | |
| --- | --- |
| Parameter | Value |
| Arc length, mm | 0,5 - 6,0 |
| Welding speed, mm/sec | 2-10 |
| Vertical inclination angle, 0 | ± 90 |
| Horizontal inclination angle, 0 | ± 90 |
| Welding current, A | < 4,0 |
| Arc voltage, V | 25-40 |
| Open circuit voltage, V | < 60 |
| Lesson's execution time, min | До 10 |
| Length of welding seam, mm | 500,0 |
| Power consumption, W | < 300 |
| Power supply | ~220-230V, 50 Hz or ~110V, 60 Hz |
| Weight, kg | < 16 |
Photos of the simulator